Our History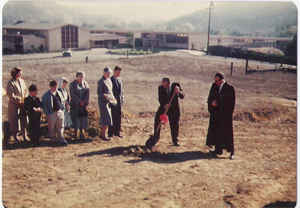 SHPC has its roots in Second Presbyterian Church, San Anselmo, organized in 1908. In 1948, the church celebrated its growth and the ordination of its own pastor with a change of name to Trinity Presbyterian Church.  In 1957, Trinity dissolved to form a new church in Sleepy Hollow.  Members met in the home of Dr. Jessie Baird of the San Francisco Theological Seminary (located in San Anselmo) until a new building was constructed. December 6, 1959, saw groundbreaking at the current SHPC site.  In April of 1960, the first service was held in the present SHPC building.
 The church was ably served by the Rev. Gene Burris, the Rev. Ben Kinney, and the Rev. Don Emmel, and in 1990, the Revs. Andy and Wendy Dreitcer were installed as co-pastors.  The dynamic couple and their young daughters, Hannah and Monica, connected well with other young families in the area. The Dreitcers revitalized the church by bringing in dozens of young families.  They also brought in our music minister Stephen Iverson, and kept the church well connected to the San Francisco Theological Seminary.
During the Dreitcer's pastorate the church inaugurated its highly successful Mexico Mission homebuilding program.
 In the early 2000s, the congregation suffered the tragic losses of Rev. Wendy Dreitcer, pastor, and Janice Baumsteiger, secretary/sexton, both of whom lost courageous battles with cancer. They remain an inspiration to all who knew and loved them.
 SHPC was served by Interim Pastor Rev. Renée Rico from 2004 to mid-2007, followed by Dr. Tici Truly, who served until late 2010.  In 2007, the church launched an innovative Youth Program: "Kids About Town (KAT), Molding Civic-Minded Middle-Schoolers." The KAT program was launched with financial support from a grant by the Marin Community Foundation.
 In July 2011, the Session hired the Rev. Beverly Brewster ("Pastor Bev") as Temporary Pastor.  Pastor Bev was called and installed as permanent Pastor at a joyful service on October 7, 2012.  The church is growing and vibrant, with 13 new members joining in the last year.