Our History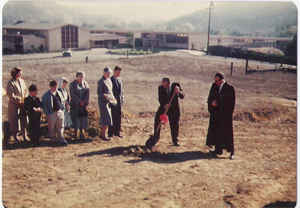 SHPC has its roots in Second Presbyterian Church, San Anselmo, organized in 1908. In 1948, the church celebrated its growth and the ordination of its own pastor with a change of name to Trinity Presbyterian Church.  In 1957, Trinity dissolved to form a new church in Sleepy Hollow.  Members met in the home of Dr. Jessie Baird of the San Francisco Theological Seminary (located in San Anselmo) until a new building was constructed. December 6, 1959, saw groundbreaking at the current SHPC site.  In April of 1960, the first service was held in the present SHPC building.
The church was ably served by the Rev. Gene Burris, the Rev. Ben Kinney, and the Rev. Don Emmel, and in 1990, the Revs. Andy and Wendy Dreitcer were installed as co-pastors.  The dynamic couple and their young daughters, Hannah and Monica, connected well with other young families in the area. The Dreitcers revitalized the church by bringing in dozens of young families.  They also brought in our music minister Stephen Iverson, and kept the church well connected to the San Francisco Theological Seminary.
During the Dreitcers' pastorate, the church inaugurated its highly successful Mexico Mission  homebuilding program.
In the early 2000s, the congregation suffered the tragic losses of Rev. Wendy Dreitcer, pastor, and Janice Baumsteiger, secretary/sexton, both of whom lost courageous battles with cancer. They remain an inspiration to all who knew and loved them.
SHPC was served by Interim Pastor Rev. Renée Rico from 2004 to mid-2007, followed by Dr. Tici Truly, who served until late 2010.
In July 2011, the Session hired the Rev. Beverly Brewster ("Pastor Bev") as Temporary Pastor.  Pastor Bev was called and installed as permanent Pastor at a joyful service on October 7, 2012, and she and her partner, Dr. Michael Durphy, have been blessed to serve the church in a time of revitalization and growth.  The church welcomed the Little Mountain Preschool in 2013, expanded its commitment to the REST program for the unhoused community, and founded the Justice Garden in its back yard in 2014, to bring organic sustainably-produced produce to the hungry.  The church added a rainwater catchment tank and is now in the process of adding solar panels to its roof, to lead the community in environmental stewardship.  SHPC's Farm Stand on Butterfield Road shares Justice Garden produce with the community and raises money for hunger programs.  The church is gradually reclaiming its yard and replanting with native drought-resistant plants for a beautiful and green campus.  Worship is vibrant and joyful for all ages, with Pastor Bev's children's message a favorite for the children and adults alike.  Stephen Iverson, Director of Music and Soloist, sings and leads the SHPC Singers, our choir, year-round, with original compositions and favorites.  As his chant says, Surely God is in this place!