Environmental Stewardship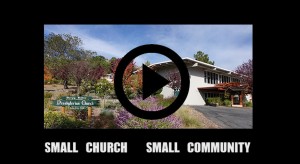 Sleepy Hollow Church is blessed to be nestled amidst the rolling hills of Marin County. With sanctuary windows that offer sweeping vistas of the Ross Valley, the church embraces the natural beauty of our surroundings and inspires those deeply committed to protecting the natural world.
Concerned about climate change and motivated to take action, we formed an environmental "Green Team" in 2014. The Marin Independent Journal profiled the Green Team's work in a front-page article about climate change.
The team's mission is multi-faceted:help our church become an environmental leader; inspire and give hope to our youth for a better future; encourage the community-at-large to be sound environmental stewards; and play a small, but important role, to help save our planet.
To achieve these goals, the Green Team's award-winning work has focused on both land management and conservation, and to date, our accomplishments are extensive.
We designed, built and manage an organic "justice" garden using the skills, knowledge and labor of adults and high school youth from our community.
Vegetables grown in our garden are sold via a weekly farm stand to raise funds that help feed the homeless in Marin.
Excess bounty from our garden is delivered to a school that serves under-privileged children and to the elderly so they too can enjoy fresh and healthy produce.
To combat the drought and demonstrate leadership in wise water use, we installed a catchment system that recycles rainwater and cuts our water consumption. The catchment system supports our garden and serves as a visible, motivational tool to educate our community about water conservation.
In partnership with SolarCraft and California Clean Energy,  we have installed a 5.7 kW solar photovoltaic system which is now producing 99% of the electricity used by SHPC.  These solar electric panels will spare the air nearly 315,830 lbs. of harmful greenhouse gases annually.  Over 25 years the system is estimated to offset 201,332 kWh of electricity, and the air pollution saved will be equivalent to eliminating over 500,000 miles of driving or planting 3 acres of trees.
Individually, our garden, rainwater catchment, and solar panel efforts are small steps. However, as we share the story of our work, these small but powerful steps will motivate other communities to take similar environmental actions.
For more information, or to get involved, contact us at green@sleepyhollowchurch.org.   Please click here to view the SHPC solar performance chart from SolarCraft.