Mexico Mission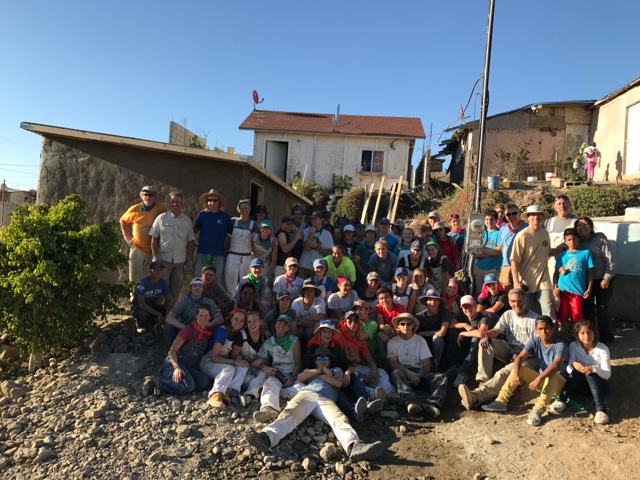 The Mexico Mission has for the past 20 years, gathered  high school and college students each spring, providing training in team-building and leadership, home construction, respect, neighborliness, and collaborates with nonprofit Amor Ministries each June to build one or more homes for families in need along the border with California.
To see some of the what has been going on in the past:
The important milestone coming up is March 11th.  We need the following two (2) completed forms from you on or before that date (thank you to all that have completed and handed in the information already!):
The Intention to Participate Form
Application Form (including a short written response describing your motivation for joining the trip)
You can find these forms in the attached file: 10 – Mexico Mission 2018 Mission Information and Participation Forms.  The balance of the forms included in this file is due by March 25th.  Your first deposit of $150 is due on this day as well so start your fundraising with your letter writing program (sample letter is attached).
Please note that our next meeting will be Sunday, March 25th at 11:30am at Sleepy Hollow Church.
If you are under 18, you must have these forms completed jointly with your parent(s) or guardian(s).  The completed information can be mailed to Sleepy Hollow Presbyterian Church (c/o Mexico Mission, 100 Tarry Rd San Anselmo), e-mailed to Katie (shpchurch@comcast.net)  or dropped off in the black lock box at the church on the outside wall of the building to the left of the window/door.
We are looking forward to a great mission.
Mark Sarkisian                                                      Katie  Brendler
Cell   Ph : 415-812-3395                                      Office   Ph :   415-453-8221
Want to help but can't come on the trip? Consider becoming a mission co-worker through donations of your thought/prayers and or monetarily. You can donate online or if you prefer by checks. If you are donating to a specific person, please note their name in the comment section of the donation page or memo line of the check.
online: https://www.youcaring.com/mexicomissiontrip-1115908
checks (MM on the memo line): Sleepy Hollow Presbyterian Church, 100 Tarry Rd, San Anslemo CA 94960
GENERAL TRIP INFORMATION:
MEETING SCHEDULE:
1 – Mexico Mission 2018 Important Milestones
FORMS: All forms and paperwork must be sent to Katie preferably in hard copy form. Paperwork can be handed in at meetings or dropped in designated black lock box outside the church. Paperwork can also be sent by email (shpchurch@comcast.net) or mailed to Sleepy Hollow Presbyterian Church, 100 Tarry Rd, San Anselmo CA 94960
12 – Mexico Mission 2018 – Intention to Participate and Application Forms Only DUE MARCH 11
10 – Mexico Mission 2018 Mission Information and Participation Forms Remainder of forms DUE MARCH 25
11 – Mexico Mission 2018 – student leader description
FUNDRAISING:
3 – Mexico Mission 2018 Initial Fundraising Flyer
4 – Mexico Mission 2018 Thank You Fundraising Letter Template
5 – Mexico Mission 2018 Sponsor Certificate
6 – Mexico Mission 2018 Thank You Certificate
7 – Mexico Mission 2018 Nailholders Certificate
8 – Mexico Mission 2018 Return Trip Letter Template – compressed
9 – Mexico Mission 2018 Fundraising Record