Choir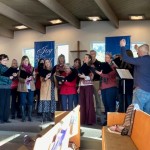 The choir rehearses Wednesdays at 6:30 and Sunday morning before the service, under the direction of Music Director Alex Walker and Worship Music Leader Jon Weller.
They open the service of worship with an inspiring Sung Prayer, and sing anthems and service music from many genres, a cappella and with accompaniment ranging from piano and guitar to full band.
For more information, email or contact the office.